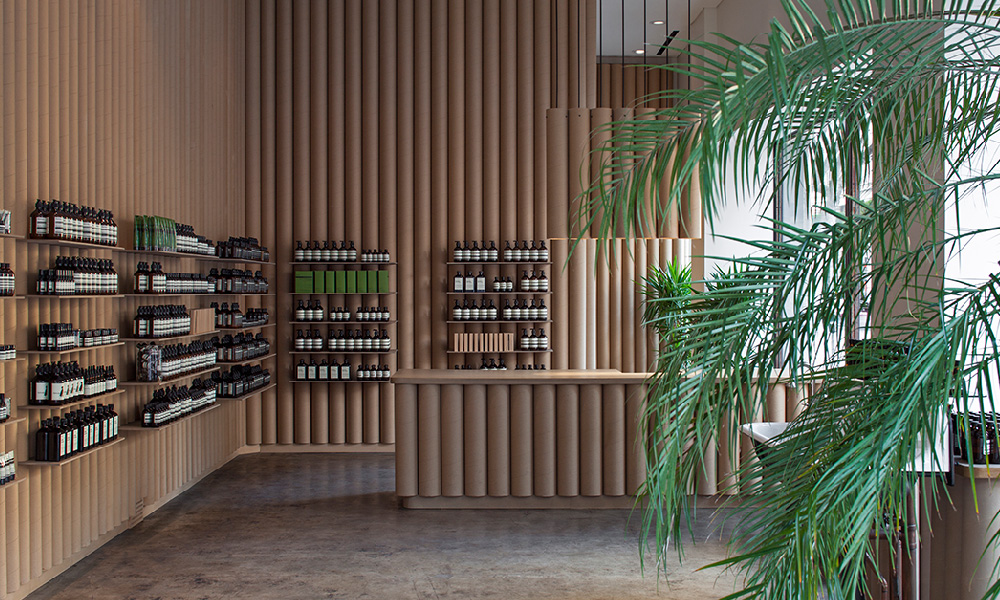 A continuous row of vertical cardboard tubes lines the wall of the LA store to reinforce the Art Deco heritage of the location.

Established in Melbourne in 1987, Aesop has become one of the most respected beauty brands in the world. From London to Singapore, New York to Kyoto, Aesop produces a range of products formulated with the highest quality ingredients. In addition to their well-known luxury skincare range, the company also offers hair care, soaps and fragrances.

The iconic Australian skincare company has built its brand on quality and well-considered design. Unlike many other brands in the industry, they show a genuine interest in building a sustainable and environmentally-aware brand identity that connects with their consumers' values. They take a modern approach to branding, through indulgent product experiences, and minimalist store designs.

Inspired by the Aesop shipping containers, the Flinders Lane store features 3000 100% recycled cardboard boxes mounted into their counters and adjustable shelving walls.

AESOP'S DESIGN PHILOSOPHY
Aesop is recognised for their unique in-store experience; their one-off store experiences make shopping an event worth going out for, rather than an everyday activity. Each of their boutique stores is designed with consideration for the materials and the local community, making each store different to the next. Thanks to the consistent use of minimalistic design and quality craftsmanship, each store is easily identifiable as the popular skincare brand.

Aesop's approach to its in-store design style is central to its localised design strategy. The Australian brand immerses itself into the local culture and history with the intention to "weave themselves into the fabric of the place" rather than impose upon it. Through the use of the "locally relevant design vocabulary" and locally sourced materials and creatives, Aesop both connects and respects the community and culture.

Aesop's Adelaide store concept fills the ceiling with a sea of wine bottles to reflect the Adelaide wine region.

For instance, Aesop's Bondi store cleverly speaks to its ocean surrounds through the locally sourced timber from the Geelong wharves and amorphous wave-like forms. Similarly, the Singapore ION store demonstrates the brand's passion for sustainable practices by showcasing an 'upside-down forest' ceiling. Just as impressively, the brand creatively managed to repurpose 2,800 copies of the New York Times for wall cladding at the Nolita store. In all instances, they successfully brought the retail experience to life with thoughtful, quality design.

Singapore's store innovation uses timber battens of different lengths, tones and materials to create an 'upside-down forest' ceiling.

FROM INCEPTION TO RESULTS
Aesop illustrates how brands can use a well-considered design to improve our life. Unlike any other, they embrace difference and non-conformity; they take the time and consideration to see what makes each store unique and build an extension of their brand through it. Furthermore, they demonstrate a high level of concern for sustainability and respect for the community in their store designs; showing not only their customer-first design approach but also their core brand value that "well-considered design improves our lives".

Aesop's Chicago Bucktown in-store experience is built on the use of reclaimed typical Chicago brick.

Since its inception 30 years ago, Aesop has successfully expanded to 200 boutique stores across 25 countries and seen a growth of 30 to 40% every year. This can be attributed to the time and consideration placed on designing signature and innovative retail spaces. Aesop has proven to be a key player in both the retail and experiential design space around the world.
THE FUTURE OF RETAIL REPORT

We recently commissioned a report on global retail trends and the evolution of shopper behaviour to identify the essential strategies retailers need to implement to thrive in the coming decade. Download the free report below!